GET YOUR TICKETS TODAY
AT THE GREATER MONTICELLO CHAMBER OF COMMERCE, 105 W BROADWAY,  
OR AT THE SFLECC OFFICE, 204-C N MAIN ST.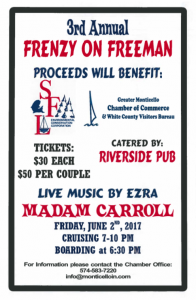 WE ARE ALSO LOOKING FOR SPONSORS! $500 SPONSORS WILL GET 2 FREE TICKETS TO THE EVENT AND $250 SPONSORS WILL GET 1 FREE TICKET TO THE EVENT.  CALL THE CHAMBER OF COMMERCE AT 574-583-7220 FOR MORE INFO.